OAK Change Stories 1 Copy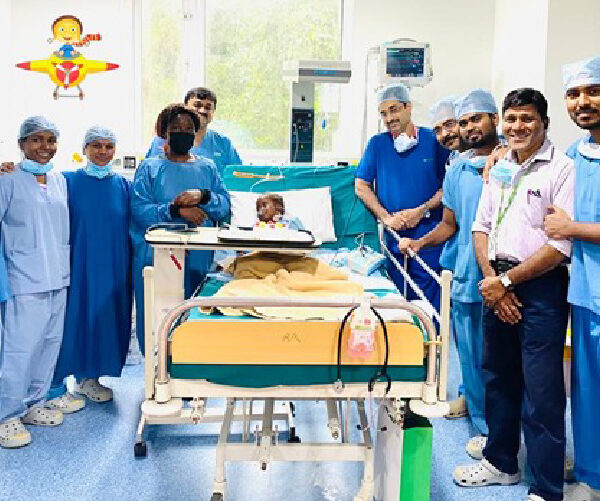 OAK Change Stories
Case 1: Caregiver intervention saved a life
Cecilia Mpofu (not real name), an 8 year old girl had a heart problem and was supposed to undergo a Fallout's tetralogy surgery in India. The child had two holes in her heart and the PDA veins had not closed since birth hence the need for the procedure. The illness negatively affected the holistic development of the child since she was going through excruciating pains with limited physical development. The family was faced with a huge task of raising US$15 000 for the procedure.
Through support from OAK Foundation, the organization build and strengthens the communities' capacity to create a safe, supportive and stimulating environment for the holistic development of children. This is done through strengthening community based Child Safeguarding structures, enhancing positive parenting skills, awareness raising against harmful practices that affect children as well as economic strengthening activities. Through  the project that caregivers are organized into support groups where they offer peer to peer support as well as engaging in various income generating projects which assist them them to provide adequate care and support to children under their care and create a spirit of oneness.
Being a member of Simbekumujuru support group in Zhombe ward 7, Kwekwe District  Cecilia's mother, Esther (not real name) got financial support of US$1 200 from her group members and other grandmothers in the ward towards traveling costs and the procedure. In addition the financial support, the support group also provided comfort and a pillar of strength and hope during the trying times.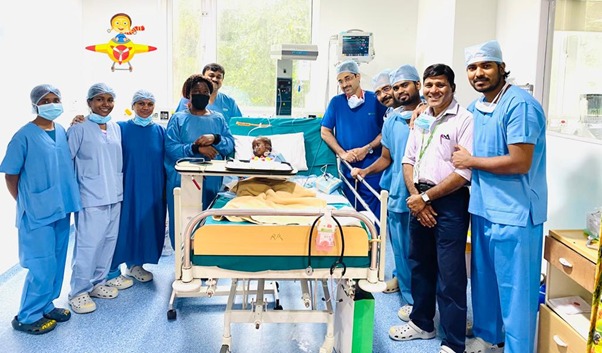 Smiles of victory, a picture taken after the successful operation for Cecilia in India with her mother
by her side (with a black mask). (Consent was sought)
The kind gesture from Esther's peers went a long way in helping their friend in times of need. We are happy to note that the operation was done successfully and Cecilia is back home in Zhombe and has fully recovered. We are very thankful to OAK Foundation for the support which contributed to build resilience of such magnitude among caregivers.
Case 2: Family finally acquires birth certificates.
Access to birth registration in Zimbabwe has always been a child safeguarding issues with many vulnerable children failing to acquire birth certificates. This has been mainly due to excessive requirements by the Registrar's Office, long queues at registration offices, expensive transport costs, lack of birth records just to mention but a few. The situation is worse for persons with disabilities who often suffer stigma and discrimination within the communities. It also has  a lot to do with disability unfriendly services hence persons with disabilities remain side-lined from services and mainstream development.
This has been the case with Sarah Dube (not real name), a 43 year old women who does not have both legs and is currently using artificial legs. Her form of disability limits her mobility and ability to fend for her 4 children. All 4 children had no birth certificates and the two older children have never gone to school due to the family vulnerability that was exacerbated by the father who deserted the family. The family lives in abject poverty and survive through the mercy of well-wishers for them to have the next meal.
Through the OAK funded project, MASO targets vulnerable children through linking them to services and advocate for equal access to basic rights and services. The organization has a disability inclusive approach where it strives to change negative community attitudes, perceptions and beliefs about persons with disabilities. The project also works through community volunteers who are community based whose role is to identify and follow up cases which need support. It is through one of the community volunteers that the case was reported and follow ups were done to assist the family. The father was traced, located and engaged to take responsibility over his family through ensuring that children had birth certificates. The organization through support from OAK Foundation hired a taxi for the family to help them with transport and wrote referral letters to Gweru General Hospital so that they provide them with birth records and the Registrar for birth registration.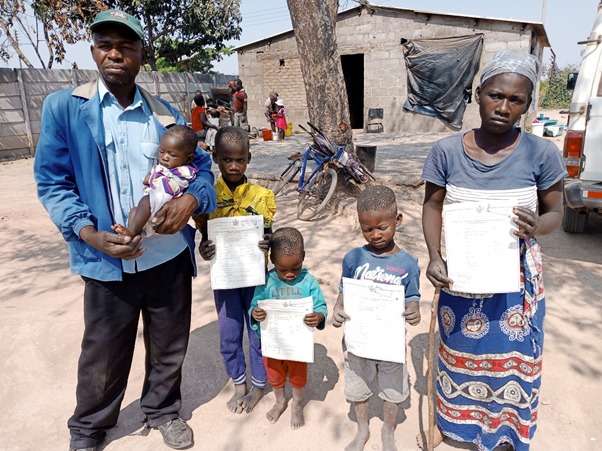 Hove family, with the children and the mother holding birth certificates for the four children.
Through cooperation from the parties in the referral system, the four children acquired their birth certificates successfully and they are now legally registered and recognised citizens of Zimbabwe. The support was cherished by the mother who noted that: "I never wanted my children to grow up the same way I did as I did not have birth certificate or Identity card until 2019. I am very grateful for the support and I now wish that my children can go to school, though I personally did not have the opportunity to go to school. I always wish the best for my children and with your support, I think they can live a fulfilled life just like any other child. I do not want them to feel any different."