Success Story – Dreams-RISE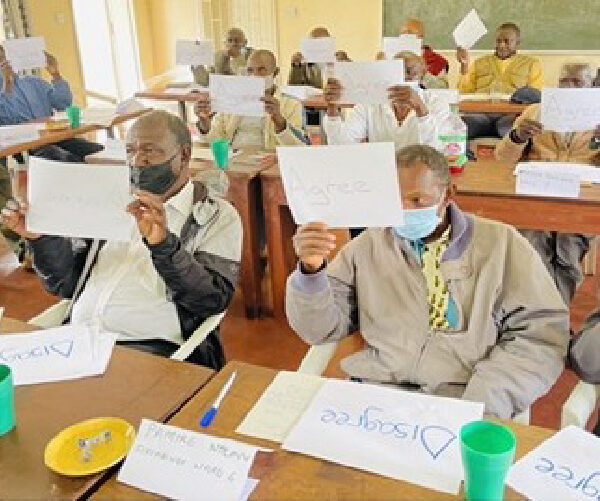 Introduction
The primary target population for the RISE Program is vulnerable AGYW aged 10 to 24 years most at risk of acquiring HIV such as 10-14 Adolescent Girls (AG), out of school AG aged 15 – 19; young women (YW) aged 20-24 years; gender-based violence (GBV) survivors; and Orphans and Vulnerable Children (OVC). The program seeks to support vulnerable AGYW to stay in school, prevent early pregnancies, prevent sexual violence, reduce child marriages, and increase access to post-violence care through implementation of a DREAMS core package of services. As part of the RISE project, MASO is implementing the Community Norms Change Programme which seeks to address harmful cultural and religious practices that fuel HIV and gender based violence (GBV) amongst adolescent girls and young women (AGYW. The first successful positive mark the district encountered was the buying in of the project by the community leaders. The district started implementing the Community Norms Change Program in April 2022 in Gweru district. The District Development Coordinator, the local authority, chiefs, headman and village heads were all informed about the project and they were in support of it as evidenced by them supporting other activities like male wellness campaigns and transformational dialogues. The department managed to conduct courtesy call visits to four chiefs in the District namely Chief Chiwundura, Chief Chisadza, Chief Sogwala and Chief Gambiza. In support of the project, the community leaders comprising of a Chief and headmen came for the PRT training which was held at MASO. Chiefs and headmen also supported other activities at community level. Furthermore, it was through series of transformational dialogues conducted by community leaders and male mobilisers that indeed brought positive changed evidenced by the stories below:
Sex can wait, my health is important!!!!!!
My name is Tafadzwa (name changed). I am a young man from Chiwundura Ward 12. I was engaged by our male mobiliser Tinashe Magwenzi, who asked me to come for sessions where we would interact as men. I was taught on different topics which included sexual reproductive health, HIV prevention, GBV prevention, importance of access to HIV related services and how as men we can protect adolescent girls and young women. It really got to me since I was having so many sexual partners. The thought of stopping my habit was difficult but I later realized through our sessions that having sexual partners was only exposing me to diseases. As a young man I have decided to stop and practice safer sex and also visit the facility to access HIV related services. As men, we do take our health for granted but I hope the DREAMS-RISE project is going to empower so many men as we try to fight the HIV. I say thank you DREAMS –RISE for giving us an opportunity as men to talk about sensitive issues that many of us are not willing to talk about.
DREAMS RISE-A GAME CHANGER
My name is Godlove Fuzane. I come from Lower Gweru Ward 6. I am a male mobiliser under the DREAMS RISE Community Norms Change Programme. I went through training in April at MASO Centre where we were trained on the basic knowledge about HIV prevention, on raising awareness on HIV and GBV prevention in an effort to protect the girl child. I was trained on raising and practicing safe practices within my community. As a male mobiliser, I was trained on the Changing the Rivers Flow model which we used to conduct dialogues. With support from my trained PRT leaders, we successfully managed to conduct transformational dialogues from round one where we mapped unsafe practices within our community. We managed to conduct our transformational dialogues until we reached a stage where we chose change agents who were going to advocate for safe practices within our ward during ward /village meetings or conducting door to door visits. Indeed it was a positive move as the change agents managed to visit households that had young people who had dropped out of school. They managed to convince the caregivers and shared with them the importance of education. Six  young people successfully managed to  have return back to school. I am grateful for the DREAMS RISE programme as it already started giving positive results within our ward.
SAY NO TO VIOLENCE AGAINST WOMEN AND GIRLS
My name is Michael Kwenda. I am a male mobiliser from Ward 9, Gamepark. Initially I was approached by the community leadership to be part of the DREAMS-RISE facilitators under the Community Norms Change Programme. I was hesitant at first but I agreed to go for the male mobilisers training at MASO Centre. During the training we learnt quite a lot of topics which included Sexual Reproductive health, how to be a good facilitator, how to advocate for safer